Jurassic World: Dominion Dominates Fandom Wikis - The Loop
Play Sound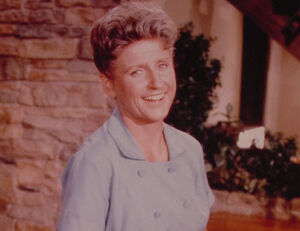 Alice Nelson is a character on The Brady Bunch. She was played by veteran character actress Ann B. Davis.
Description
Alice is the Brady Family's housekeeper and friend. She has an ongoing relationship with Sam the butcher, and says multiple times that she wants to marry him. She lives at the Brady House.
Alice grew up in the same neighborhood as the Bradys, graduating from Westdale High School, the school Greg and Marcia attend. She was the middle sister, Emily was the oldest and Myrtle was her younger sister. Alice was the housekeeper to Mike Brady, his previous wife (who died before the series started), and their three boys. Alice stayed on, to be the housekeeper for not only his boys, but for his new wife, Carol, and her three daughters. Alice was generally impartial toward the children, although she presented Jan with a locket at one point, "from one middle sister to another."
Alice was best known for telling jokes (often self-deprecating, and usually interspersed with drier humor than the rest of the Brady clan), which were almost invariably met with multiple "Oh, Alice!" responses. Alice was also known for her sky blue housekeeping uniform, which she almost always wore. She also joined in the children's games (including playing basketball), and went along with the family on vacations.
Strenuous physical activity would sometimes cause Alice to throw her back out, making her immobile for a short period of time.
Alice had an identical cousin, Emma, who was a retired master sergeant in the Women's Army Corps. Emma once filled in for Alice when Alice traveled out of town. Alice quit her job at one point when she felt the children no longer trusted her, becoming a waitress at a local restaurant. Her replacement Kay, who did her work faithfully but never tried to become close with the Bradys, told the kids where to find her ("The Golden Spoon at Fourth and Oak..."), and they begged Alice to come back.
Alice dated Sam Franklin (Allan Melvin), who ran the local butcher shop, and eventually became engaged[1] and married.[2] Alice and Sam have won awards in Charleston dancing and bowling.
Trivia
The role of Alice was originally to have been played by

Monty Margetts

, but at the last minute, the role was recast. This was due to the fact that producers of the show changed their mind about casting Joyce Bulifant, who was originally cast as Carol Brady, and instead replaced her with Florence Henderson, who took on the role; producers felt a more comedic, zany housekeeper was called for, to balance Henderson's soft-spoken, low-key presence.
In the 1990s parody movies, Alice was played by actress

Henriette Mantel

. In the first film, Davis makes a cameo as a truck driver whose CB handle is "Schultzy" (Davis first became popular in the 1950s playing a character named Schultzy on The Bob Cummings Show).
References