Carol Brady is the mother of the Brady Kids on The Brady Bunch TV series. Florence Henderson played the role on the ABC-TV series, as well as all of the subsequent TV series spinoffs and specials. In the 1995 box-office smash film version, The Brady Bunch Movie and its 1996 sequel A Very Brady Sequel and the 2002 made-for-TV film The Brady Bunch in the White House, the role of Carol is played by former Cheers TV series co-star Shelley Long.
About Carol Brady
Carol Tyler Martin's first husband disappeared without an explanation, leaving her to raise their three girls on her own. Did he die? Did he divorce her? We may never know. What we do know is that Carol Ann is the perfect match for Michael Paul Brady. Together they make a perfectly symmetrical family.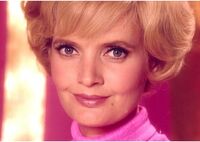 For her time, Carol is a liberated woman (Maybe that's what scared off her first husband?). Although she chooses to be a stay-at-home mom, she is anything but a housewife. She's a freelance writer, a sculptor, a political activist and a singer. She also organizes plays and PTA events while keeping dinner on the table. Some of her favourite things are a large terra-cotta vase, dangly earrings and singing in church. She also loves telling corny jokes and finding clever ways of zinging her husband.
Vital facts about Carol
Born:
September 23, 1933
Past romances:
Thomas Patrick O'Malley
(dated, engaged, 1966)
Spouses:
Daniel Alan Martin
(1958-1962, widowed)
Mike Brady
(1969- (?))
Children:
Marcia Brady
Jan Brady
Cindy Brady
(with Daniel Alan,adopted by Mike)