Jurassic World: Dominion Dominates Fandom Wikis - The Loop
Play Sound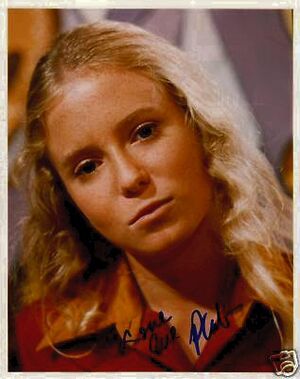 "Am I invisible?! Do I not have a voice? I had that idea two days ago!"
―Jan Brady

Janet Elizabeth "Jan" Brady-Covington (née Martin) is a character in The Brady Bunch. She was played by Eve Plumb in the ABC-TV series.
About Jan
Jan was born in 1959 making her ten when the show starts and 15 when it ends. She is the middle Brady daughter. Jan is shown to be very jealous of her beautiful popular older sister Marcia. Jan is insecure about having freckles and wearing glasses, and is embarrassed about the fact she does not have a boyfriend, and even invented a fictional one named "George Glass". Jan always attempted to carve out her niche in the family, or make a name for herself at school. Once, in envy of Marcia, she uttered the now famous catch phrase, "Marcia, Marcia, Marcia!" Though Jan is often envious or angry at her oldest sister, Marcia is her best friend. Jan is close to all her siblings, but especially Marcia and Cindy.
Her buddy Lucy Winters accidentally calls Jan "Marcia" on a party invitation, and Jan thinks the solution is to get new hair. Of course, the hair isn't her problem at all -- everybody envies Jan's long, blonde locks.
Jan, like any insecure teenager, had to suffer through glasses and braces. She eventually gains confidence, and although she'll never be the cheerleader that Marcia is, she was liked well enough to be voted most popular girl at Fillmore Junior High. Even though Jan has announced that she wishes she was an only child, she really loves all her siblings.
Jan, as a child, was sometimes absent-minded, once losing the tube containing her father's architectural plans while visiting King's Island amusement park in Cincinnati. In her later high school years, Jan found she had a talent for painting, which likely led to her career choice as an architect, following in her father's footsteps. It took her a while to find out her own special talent, she tried almost everything, even being a pom pom girl. Once she failed at that she concluded she was no good at anything, until she later discovered her great love of painting.
Jan married Phillip Covington. The two met in college, where he was her professor. The two briefly separated, but reconciled. However, they are unable to conceive their own children and in The Brady's adopt a Korean girl named Patty.
Casting History