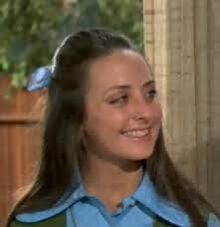 Kathy Lawrence is Marcia's classmate and on and off frenemy.
Biography
In "My Sister, Benedict Arnold", she and Marcia started off as rivals. Marcia accused her of using underhanded means to take the final spot on the cheerleading squad, and was angered even further when Greg asked her out for the sole purpose of annoying her.
In "The Personality Kid", Kathy and Marcia have apparently made amends, as she was now her friend who helped in an ill-fated attempt to develop Peter's personality. She is best remembered for being told by Greg to cheer the cheer for her Middle School to get Marcia jealous by yelling "F-F-F-I-L-L-L-L-M-O-O-O-O-R-E Fillmore Junior High!"
Appearances