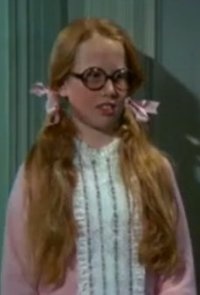 Margie Whipple is a character in The Brady Bunch. She was played by Karen Foulkes.
About Margie
Margie is a friend of Lucy Winters and has a huge crush on Peter Brady. Peter tries to avoid Margie because of her wired personality. Margie was at Lucy's party and was one of the people who made fun of Jan's wig. When Jan ran back home, Peter replied that Jan wasn't making a joke. Margie then grabs Peter by the arm and raps her arm around his arm. When Jan arrives at The Brady House, Margie, Lucy and Peter follow her back home. Margie and Lucy apologize and Jan and Lucy walk back to the party. Margie grabs on to Peter and tells him to go with her. Peter replies he doesn't want to go. Then Mike reminds Peter about what they talked about and Peter and Margie walk back to the party.
Appearances
Community content is available under
CC-BY-SA
unless otherwise noted.