Jurassic World: Dominion Dominates Fandom Wikis - The Loop
Play Sound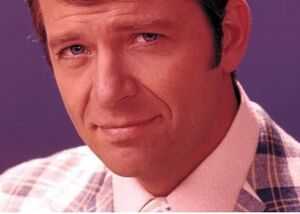 Michael Paul Brady is a character in the The Brady Bunch. He was played by Robert Reed.
About Mike
Mike Brady married Carol Martin in 1969, at the age of 36, becoming stepfather to her three girls, Marcia, Jan, and Cindy Martin. He was an architect. He was named "Father of the Year" by a local newspaper after his stepdaughter Marcia submitted an essay. His parents were often mentioned but never seen. However, his paternal grandfather, Judge Henry "Hank" Brady has appeared. Mike has a firm personal integrity coupled with a strong sense of ethics. For example, he once refused to participate in a commercial if it meant saying a product is the best when he believes it isn't.
Mike is a highly qualified and well-respected architect, although he has had his share of failures. Mike was one of the staff architects with his firm; its name was never mentioned, though it was later named Brady and Associates. Ed Phillips was his boss until the final three episodes of the series, when Mr. Phillips is succeeded by Harry Matthews. Mike was later the senior partner at the firm.[1][2]
Trivia
Mike was absent from two episodes during the series' run: "Goodbye, Alice, Hello" and "The Hair-Brained Scheme". The reason for Robert Reed's absence in "Goodbye Alice, Hello", which aired midway through the fourth season, has never been explained. However, much has been stated and written about "The Hair-Brained Scheme", the series' finale, and Reed being so intensely disgusted with that episode's script he demanded to be written out. As such, Mike did not attend Greg's high school graduation at the end of the episode, Carol mentioning in passing to Greg that it was "Too bad your father had to be out of town."
From 1969 to 1971, Mike had short brown hair. In 1971, he grew his hair somewhat longer and slightly grayer. In 1972, during the Hawaii episodes, Mike's hair crimped up, and became curly, and he kept his curly-haired perm for the remainder of the series, and 1977's The Brady Bunch Hour. By 1981's The Brady Girls Get Married, Mike had a mustache, which he kept for all subsequent Brady Bunch reunion shows. His hair was considerably grayer for 1988's A Very Brady Christmas and 1990's The Bradys
Casting History
References