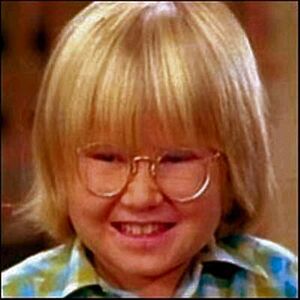 Cousin Oliver Tyler[1] a character in the last six episodes of the fifth and final season of The Brady Bunch. He was played by actor Robbie Rist.
About Oliver
Oliver is the son of Carol's brother Jack and his wife Pauline. When they travel to an archaeological dig in South America, and their son is unable to accompany them, he is sent to live with the Bradys.
Cousin Oliver Syndrome
Cousin Oliver was eight years old (Rist was actually nine) and very young in contrast to the other kids, all of whom were twelve or older, an apparent attempt to restore some of the appeal the series had enjoyed when the other children were younger. Some fans would later call the addition of Cousin Oliver the moment when the series "jumped the shark", though ratings were already in decline.[2] Some believe it was because of his character that the show ended.
Similarly, in The Partridge Family a precocious four-year-old neighbor named Ricky (Ricky Segall) was added for its final season (the same year as the final season of The Brady Bunch). The addition of younger children to sitcoms that seem to have run their course, in an attempt to improve declining ratings, became a television trend popularly known as "Cousin Oliver Syndrome".
Years later, Rist appeared with members of The Brady Bunch cast on an episode of the game show The Weakest Link. Introducing himself, he joked: "I hope I don't kill this show too!" Rist was the first to be voted off the episode, despite Susan Olsen being the weakest link.
References
↑

Tyler is Carol's maiden surname and Oliver's father, Jack, is Carol's brother.