"The Brady Bunch" TV series: Season 3
The Brady Bunch: Season 3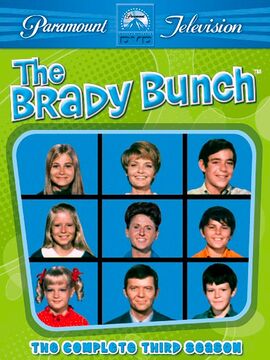 "The Brady Bunch" Season 3 DVD cover.
Episodes aired:
23
Dates aired:
17 September 1971 - 10 March 1972
Network/Country:
ABC-TV/United States
Previous Season:
Season 2
Next Season:
Season 4
This page lists all the episodes for Season 3 of the ABC-TV series The Brady Bunch. The season began with the pilot episode "Ghost Town", which was aired on 17 September 1971. A total of 23 episodes were aired, with the season finale episode, "The Fender Benders", airing 10 March 1972.
Season 3 (1971-1972)
23 episodes
No. in

season

No. in

series

Title
Directed by
Written by
Original airdate
Prod. code
1
50
"Ghost Town U.S.A."
Oscar Rudolph
Howard Leeds
17 September 1971
050

The family travel to the Grand Canyon for their third annual camping trip. On the way, they stop at a ghost town for the night. There they are confronted by an old prospector, Zaccariah T. Brown (Jim Backus) who fears they plan to steal his gold, and lock them in an old jail cell. The family free themselves but Zachariah has taken their car. Peter and Mike go out to search for Zachariah and the car.

Note: Part 1 of a three-part episode, filmed entirely on set and in rural towns outside of Los Angeles.

2
51
"Grand Canyon or Bust"
Oscar Rudolph
Tam Spiva
24 September 1971
051

The family, stranded in the ghost town, seeks help by starting a signal fire. Zachariah (Jim Backus) returns with Peter, Mike, and the car. Mike has convinced Zaccariah they are not stealing his claim. The family heads to the Grand Canyon. There, they ride mules down into the canyon, and Cindy and Bobby notice a Native American boy. They follow him, but get lost. The others frantically search for Cindy and Bobby.

Note: Part 2 of a three-part episode, mostly filmed on location at the Grand Canyon.

3
52
"The Brady Braves"
Oscar Rudolph
Tam Spiva
1 October 1971
052

Bobby and Cindy are found. Mike comes to the Jimmy's aid; he had run away believing his grandfather Chief Eagle Cloud (Jay Silverheels) would scoff at his ambition to become an astronaut. Mike convinces him to talk to his grandfather. Chief Eagle Cloud turns out to be proud of his grandson's ambition, and he invites the Bradys to participate in a ceremony making them honorary members of his tribe, and they each receive titles: Big Eagle of Large Nest/Mike, Yellow Flower with Many Petals/Carol, Stalking Wolf/Greg, Middle Buffalo and Sleeping Lizard/Peter, Wandering Blossom/Cindy, Little Bear Who Loses Way/Bobby, Dove of Morning Light/Jan, Willow Dancing in Wind/Marcia, Squaw in Waiting/Alice.

Note: Part 3 of a three-part episode, filmed entirely on location at the Grand Canyon

4
53
"The Wheeler-Dealer"
Jack Arnold
Bill Freedman & Ben Gershman
8 October 1971
054

Greg learns the principle of Caveat Emptor when he gets his driver's license and buys his first car, a 1956 Chevrolet Bel Air convertible, from a slick-talking friend. But all the restoration in the world can't change the fact the car is a lemon. Greg plans on selling the car to a gullible friend, but has a change of heart and sells it for junk instead.

Guest stars: Chris Beaumont as Eddie, and Charles Martin Smith as Ronnie

5
54
"My Sister, Benedict Arnold"
Hal Cooper
Elroy Schwartz
15 October 1971
058
Greg is furious that Marcia is dating his school rival, Warren Mulaney (Gary Rist). After a date with Warren, Marcia decides to not date him again. When Greg demands Marcia not see him again, she invites him home to spite Greg. However Greg has brought home Marcia's rival, Kathy Lawrence (Sheri Cowart). Marcia and Greg clash over this and Mike admonishes them for using Kathy and Warren to make a point. When they go to the other room to apologize they find that Warren and Kathy have befriended each other and left together. In the subplot, Alice, Peter, Cindy and Bobby work on the dunking machine for the school carnival.
6
55
"The Personality Kid"
Oscar Rudolph
Ben Starr
22 October 1971
055
Peter is told he has no personality and takes it to heart. He tries to create a new personality, forcing different personae including an  impersonation of Humphrey Bogart as Joe (repeating the family's dinner menu "porkchops and applesauce" in a Bogart like voice). None of the impersonations go over well so Peter buys a joke book. When he tries the jokes at his party everyone knows the punchlines. While trying to keep his party afloat, Bobby and Cindy—who in the subplot are on a safety drill campaign—call a surprise fire drill, forcing everyone to leave the house.
7
56
"Juliet is the Sun"
Jack Arnold
Brad Radnitz
29 October 1971
053
Marcia wins the lead female role of Juliet Capulet in the school production of Romeo and Juliet opposite Harold Axelrod (Randy Caseas) as Romeo Montague. Peter and Jan are cast as palace guards, and rehearse their brief roles repeatedly. Marcia had auditioned for the part of the nurse and feels that she is not good enough for the lead female role. The family makes an effort to encourage Marcia, but her ego grows and she becomes unmanageable. Marcia is heartbroken when her diva-like behavior results in her dismissal from the play. At the last minute, when the girl cast as Juliet's mother Lady Capulet gets the mumps, a contrite Marcia asks to be given the role and promises she will act in a professional and courteous manner.
8
57
"And Now a Word From Our Sponsor"
Peter Baldwin
Albert E. Lewin
5 November 1971
060

The Bradys are hired by a hip director, Skip Farnum (Paul Winchell), to star in a television commercial for laundry detergent, due to their unaffected manner. The detergent is not the family's current brand, but a comparison test shows the new detergent as superior so the family agrees to do the commercial. They take advice from acting teacher Myrna Carter (Bonnie Boland), but as a result their acting is forced. Skip is appalled and fires the Bradys, remarking that the acting methods remind him of a "terrible" actress they worked with: Myrna Carter. As compensation the family receives 2,000 boxes of laundry detergent.

Note: Robert Reed wrote a four-page memo complaining about Sherwood Schwartz and the character of Skip Farnum, but he did like Paul Winchell's acting.[10]

9
58
"The Private Ear"
Hal Cooper
Michael Morris
12 November 1971
059
Using Mike's tape recorder, Peter eavesdrops on his siblings' conversations. Mike counsels Peter on his behavior and considers the matter settled, but Greg and Marcia take things into their own hands for revenge, and discuss a surprise party for Peter ensuring he overhears. Mike and Carol learn of this and sabotague the revenge by throwing an actual surprise party for Peter.
10
59
"Her Sister's Shadow"
Russ Mayberry
Al Schwartz & Phil Leslie (teleplay), Al Schwartz & Ray Singer (story)
19 November 1971
056
Jan is tired of her teachers constantly comparing her to the popular and successful Marcia. She dumps Marcia's awards in the closet and complains that all she hears is "Marcia this, Marcia that... Marcia, Marcia, Marcia." Jan is thrilled to establish her own successful identity by winning an Honor award for an essay she wrote. When she realizes there is a scoring error and she actually came second, Jan grapples with her conscience and considers keeping secret her discovery. At assembly with her parents in attendance and minutes before the presentation, Jan reveals her discovery to her teacher. The teacher's presentation depicts Jan as gracious and mature for revealing the error.
11
60
"Click"
Oscar Rudolph
Alfred Lewis Levitt & Helen Slote Levitt

(as Tom & Helen August)

26 November 1971
061

Greg becomes a member of the Westdale High School football team. Mike supports the idea, but Carol fears Greg will get hurt. Greg is indeed injured in a scrimmage so he turns to photography. Greg realizes his importance when he snaps a photo of a bad call on the field. Bobby also takes up photography for the subplot.

Guest stars: Elvera Roussel as Linette Carter, Bart LaRue as the coach

12
61
"Getting Davy Jones"
Oscar Rudolph
Phil Leslie & Al Schwartz
10 December 1971
064

Marcia, president of her school's Davy Jones fan club, hastily promises she can get him to sing at her school's upcoming dance on the strength of Jones' letter saying he would do her a favor. Marcia scrambles to contact Jones to ask him to appear. After unsuccessful attempts at the local TV station and at his hotel, Marcia's appeal to Davy's manager convinces him to make an appearance. Davy realizes he cannot go back on his word.

Guest stars: Marcia Wallace as Mrs. Robbins, Tina Andrews as Doreen, Whitney Rydbeck as Page, Kimberly Beck as Laura, and Britt Leach as the recordings manager. The actors who play the receptionist and the audio technician are uncredited







Notes: This was Davy Jones' first televised appearance after the end of The Monkees;[13] his song featured in this episode, "Girl", was also used as the theme to the Paramount picture Star Spangled Girl, which was released in theaters the same month as this episode's original broadcast. In 1997, TV Guide ranked the episode number 37 on it's '100 Greatest Episodes of All Time' list.[14]

13
62
"The Not-So-Rose-Colored Glasses"
Leslie H. Martinson
Bruce Howard
24 December 1971
062

Jan accidentally takes someone else's bicycle and her grades are falling. It is learned her eyesight is failing and she needs glasses – which she refuses to wear. She bicycles without her glasses, but crashes her bike destroying the portrait of the kids Mike intended as an anniversary present for Carol. Jan tells the kids the photographer lost the negative and they have to be photographed again for the replacement portrait. Mike realizes it is a new photograph – Jan wears her glasses in the new portrait. Jan says she was not wearing her glasses at the time of her accident and that she sold her bicycle to pay for the replacement portrait. In the subplot, Carol and Mike are trying to hide anniversary presents from one another.

Guest star: Robert Nadder as Gregory Gaylord

14
63
"The Teeter-Totter Caper"
Russ Mayberry
Joel Kane & Jack Lloyd
31 December 1971
057
When they are not invited to Carol's cousin's wedding and asked to stay out of the way of their older siblings' activities, Bobby and Cindy decide to show how "important" they are by setting a world's record for most hours on a seesaw. They get newspaper coverage for their attempt, which ultimately fails when they fall asleep short of the record. The older siblings realize the attention-craving Bobby and Cindy indeed have their place in the family and are worthy of respect. In the subplot, the older Bradys are planning for Carol's cousin's marriage.
15
64
"Big Little Man"
Robert Reed
Skip Webster
7 January 1972
063
Bobby is self-conscious about his diminutive height. Greg, in the subplot, gets a job at Sam's butcher shop to save for a surfboard. The girls' attempts to convince Bobby he is growing do not help, but Bobby learns the value of being small when he locks himself and Greg in Sam's meat locker.
16
65
"Dough Re Mi"
Allen Baron
Ben Starr
14 January 1972
065

Greg needs $150 to cut a music record. To get the money Greg forms a singing group with his siblings, but Peter's voice begins to break. Greg comes up with a new song to accommodate the breaking voice. Two songs are featured: "We Can Make the World a Whole Lot Brighter" and "Time to Change".

Note: Christopher Knight disliked that episode - of all six Brady kids' actors, he was the only one who didn't like singing (even admitting it himself).

17
66
"Jan's Aunt Jenny"
Hal Cooper
Michael Morris
21 January 1972
067
Jan discovers an old photograph of a child that looks just like her. Carol explains it is Aunt Jenny (Imogene Coca) and describes her to Jan. Jan is anxious to meet her great aunt, but changes her attitude on seeing a current photo of Jenny. Jan worries she will resemble the old and eccentric-looking Jenny at that age. Jan's doubt is placated when she meets Aunt Jenny, a fun-loving Auntie Mame-type, and realizes her beauty within. The subplot has the Bradys cleaning junk from the attic and Mike attempting to restore an old record player.
18
67
"The Big Bet"
Earl Bellamy
Elroy Schwartz
28 January 1972
066
Greg comments to a pesky Bobby that he can do twice as many chin-ups as he can. Greg did not mean anything by it, but Bobby demands a contest, with the loser acting as the winner's servant for a week. Bobby wins and soon becomes a tyrant. He invites himself along on Greg's date with Rachel (Hope Sherwood). Bobby is annoying and disruptive through the date, and through his intentionally silly antics rips the soft top of Mike's convertible, leaving himself with a large debt to Mike for the repairs. In the subplot, Carol and Mike attend a high school reunion with a bet of their own.
19
68
"The Power of the Press"
Jack Arnold
Ben Gershman & Bill Freedman
4 February 1972
069
Peter joins his school newspaper and becomes popular when his classmates see themselves mentioned in print. Peter writes a flattering piece on his officious science teacher Mr. Price (Milton Parsons), hoping it will help him gain a better grade. After the test Peter admits what he has done to Mr. Price, not realizing that he has read the piece – standard procedure when staff are mentioned in the paper. They both learn something from the discussion.
20
69
"Sergeant Emma"
Jack Arnold
Harry Winkler
11 February 1972
070
When Alice goes on a week's vacation, she invites her identical cousin Emma (Ann B. Davis), a former Army WAC, to care for the household. Emma starts the Brady kids on a rigid schedule of exercise and work. When Mike and Carol approach Emma to commend her for teaching discipline to the kids, Emma decides that they too should join the sessions. Everyone can't wait until Alice returns from her vacation, and a "welcome home" party intended for Alice is misconstrued by Emma as the Bradys' show of appreciation.
21
70
"Cindy Brady, Lady"
Hal Cooper
Al Schwartz & Larry Rhine
18 February 1972
068
When she can't do what her older sisters can, Cindy decides to act more mature than her age. Bobby tries to help by posing as a secret admirer; when Mike wants to expose him, Bobby asks his friend Tommy (Eric Shea) to reveal himself as the admirer. Cindy initially turns Tommy off with her mature airs, but then when she starts acting her age Tommy expresses true affection for her.
22
71
"My Fair Opponent"
Peter Baldwin
Bernie Kahn
3 March 1972
072
Marcia's plain and awkward classmate Molly Webber (Debi Storm) is nominated for hostess of the school's Banquet Night as a cruel joke by other students. Marcia is angered by this, so decides to make over Molly to deflate the joke. Marcia is in a bind when a nominee drops out and Marcia becomes the other nominee. She considers dropping out herself until experiencing Molly's arrogant new behavior. Molly uses Marcia's campaign speech without acknowledging Marcia for her help, and with it, wins the contest. Molly has a change of heart and confesses.
23
72
"The Fender Benders"
Allen Baron
David P. Harmon
10 March 1972
071

Carol is involved in a minor car accident with Marcia, Bobby, and Cindy as passengers. Carol and Harry Duggan (Jackie Coogan), the other driver involved, initially agree to pay for their own damage. Duggan later files a lawsuit against Carol, claiming the accident was due to her reckless driving and that he was injured as a result. Carol goes to court to dispute the exaggerated charges, and wins with a big assist from Mike.

Guest stars: Robert Emhardt as the Judge