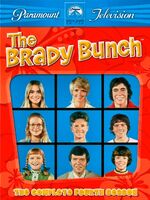 Season 4 of the ABC-TV series The Brady Bunch began with the episode "Hawaii Bound", which was filmed on the coast of Hawaii and first aired 22 September 1972. A total of 23 episodes were aired, with the season finale episode, "A Room at the Top", airing 23 March 1973.
No. in

season

No. in

series

Title
Directed by
Written by
Original airdate
Prod. code
1
73
Hawaii Bound"
Jack Arnold
Tam Spiva
22 September 1972
073

Mike is sent to Hawaii to check on a construction project, and his firm allows him to take the family and Alice along. The family takes an enjoyable tour of Hawaii. And when Bobby joins his father on the tour of the construction project, he finds an ancient tiki, which, according to an old Hawaiian legend, brings bad luck to anyone who touches it. The Brady boys laugh at the curse and blow it off as superstition, but then start to think differently when Greg has a surfing accident. During their sightseeing tour of Hawaii, the Bradys learn about the history and legend of Pearl Harbor, and Cindy is pleased to have legendary Hawaiian crooner Don Ho and Sam Kapu serenade her.

Note: This is Part 1 of three parts, filmed mostly on location in Hawaii 

Guest stars: David "Lippy" Espinda as Mr. Hanalei, Patrick Adiarte as David

2
74
"Pass the Tabu"
Jack Arnold
Tam Spiva
29 September 1972
074

The tiki apparently brings continued bad luck to the family: Greg is reeling from his surfing crash, a wall hanging in the boys' hotel room falls and almost hits Bobby, and a tarantula finds its way into their room and nearly bites Peter. Bobby tries to get rid of the tiki, but it is returned to him by an unknowing Jan. The boys learn that the idol must be discarded at an ancient burial ground in order for the curse to be removed.

Guest star: Vincent Price as Professor Hubert Whitehead

3
75
"The Tiki Caves"
Jack Arnold
Tam Spiva
6 October 1972
075
An archaeologist, believing the boys have come to steal his latest "find", holds them captive on the burial grounds where they are directed to return the tiki. After the girls reveal their siblings' whereabouts, Mike rescues his sons, then convinces the professor that they have no intention of claiming credit for finding the burial grounds. A Hawaiian party wraps up the Bradys' latest vacation.
4
76
"Today, I Am a Freshman"
Hal Cooper
Myles Wilder
13 October 1972
076
Marcia is anxious about her freshman year of high school, and Mike asks Greg to introduce his sister around. Marcia decides to join every club at school, including the Boosters, a club of conceited girls who administer strict social rules. When Marcia invites the Boosters over for her interview, Peter's previously malfunctioning science project model volcano, which is the subplot, finally erupts, spewing "lava" over Marcia and the outraged Boosters. Marcia breaks into laughter and realizes the humorless Boosters are not the types of girls she wants to socialize with.
5
77
"Cyrano de Brady"
Hal Cooper
Skip Webster
20 October 1972
077
Peter is smitten when Jan brings home her pretty classmate Kerry Hathaway (Kym Karath). Peter is shy with Kerry, so he enlists Greg to help with what to say to Kerry. Kerry mistakenly concludes that Greg is the one interested in her, which causes friction between Greg and Peter. To make it up to Peter, Greg enlists Marcia's help in a play-act to convince Kerry that he is an aggressive, womanizing playboy so she will lose interest in him. Peter arrives home and, unaware of the plan, tells Kerry that "Debbie" (Marcia) is their sister, and that it was an act. Peter's honesty wins Kerry's love.
6
78
"Fright Night"
Jerry London
Brad Radnitz
27 October 1972
078
After being spooked by the boys one night, the girls work on their own method of revenge. Once the score is evened, Mike calls for an end to the pranks. Regardless, the kids team up to scare Alice. Mike and Carol arrive home early and break up the scheme, but Alice arrives on the scene. Panicked, Alice smashes the bust of Mike that Carol made for an art contest, which was the subplot, thinking it is the head of a burglar. Carol and Mike come down hard on the kids and suspend the kids' allowances for two weeks, pointing out that their actions could have resulted in tragedy.
7
79
"The Show Must Go On??"
Jack Donohue
Harry Winkler
3 November 1972
082
Greg and Marcia each enlist their parents to perform with them in the Westdale High School's talent revue, Family Night Frolics. Carol and Marcia perform the featured song "Together (Wherever We Go)" from the musical Gypsy, and Greg and Mike do a reading of Henry Wadsworth Longfellow's The Day is Done. The reading is a unique interpretation complete with visual gags, bad puns, and a rubber chicken. In the subplot, Alice and Sam (Allan Melvin) break up, but solve their differences during the talent revue.
8
80
"Jan, the Only Child"
Roger Duchowny
Ralph Goodman & Al Schwartz
10 November 1972
081

Jan complains about the lack of privacy and personal space, and declares she wants to become an only child. Her angered siblings teach her a lesson; they grant her wish by ignoring her and staying out of her way. Meanwhile in the subplot, the family plans a square dance at a Hoedown party, and Alice and Carol compete by making strawberry preserves for the dance.

Note: This episode caused an argument on-set between Robert Reed and Sherwood Schwartz over lines in the script.[1]

9
81
"Career Fever"
Jerry London

Adele Styler

& Burt Styler
17 November 1972
079
Mike mistakenly believes Greg wants to follow in his father's footsteps to become an architect. Greg does not want to offend Mike by admitting he does not want to become an architect, he merely wrote that he did for a school assignment. Greg creates ridiculous designs to show he will never make it as an architect. In the subplot, Cindy wants to be a model, Bobby an astronaut, while Peter and Jan want go into the medical profession and borrow large medical encyclopedias from the library. Peter mistakenly concludes that he has contracted a rare disease, but he has misread the encyclopedia.
10
82
"Goodbye, Alice, Hello"
George Tyne
Milt Rosen
24 November 1972
084

A series of misunderstandings leads Alice to believe she has irreparably breached the Brady kids' trust, prompting her resignation. Alice's temporary replacement is Kay (Mary Treen), Alice's friend who had a similar unpleasant experience with another family. Although Kay is very nice, she has no intentions of bonding with the family; instead she does her job. The kids, with help from Kay, track down Alice at a restaurant where she now works and convince her to return.

Note: Robert Reed does not appear in this episode.

11
83
"Greg's Triangle"
Richard Michaels
Bill Freedman & Ben Gershman
8 December 1972
087

Greg dates classmate Jennifer Nichols (Tannis G. Montgomery). Carol and Mike suspect Jennifer may be dating Greg with an ulterior motive as Jennifer, along with Marcia, is trying out for head cheerleader, and Greg is on the judging committee. At the tryout, Greg is caught in a dilemma when he has to cast the deciding vote. Greg fears both Jennifer and Marcia will be angered if he does not favor them, but ultimately selects Pat Conway (Rita Wilson) as he judged her the best cheerleader. Greg is surprised that Marcia is happy; she knows Greg voted honestly. However, Jennifer dumps Greg, who realizes she was using him to win his vote. In the subplot, Carol takes up golf with Mike's help.

Note: Although Carol is learning how to play golf, it is revealed in the first season episode "Vote For Brady" that she has a set of clubs and used to play golf all the time.

12
84
"Everyone Can't Be George Washington"
Richard Michaels
Sam Locke & Milton Pascal
22 December 1972
086

Peter auditions for the role of George Washington in the school play, but is cast as Benedict Arnold instead. When friends start teasing him as a "traitor", Peter feigns laryngitis to lose the role, but Mike convinces him his behavior in letting everyone down was the same as the real Benedict Arnold. Peter agrees to be in the play and is praised for his brilliant portrayal of Arnold.

Guest star: Sara Seegar as Miss Bailey

13
85
"Love and the Older Man"
Richard Michaels
Sam Locke & Milton Pascal
5 January 1973
085
Marcia has a crush on the family's new dentist,

Dr. Stanley Vogel

(

Don Brit Reid

), and mistakenly concludes that a favor he plans to ask of her is to date him. He actually wants to ask Marcia to babysit his three-year-old child when he takes his wife out. In a subplot, the boys build a motorized go cart.
14
86
"Law and Disorder"
Hal Cooper
Elroy Schwartz
12 January 1973
080

Bobby learns about power, discretion and responsibility when he is named safety monitor at school (involuntarily). His classmates avoid him, and when he writes up Cindy for running in the hallway and gets her a detention, she gets mad at him. Bobby still abuses his power and writes people up for minor infractions, including his older siblings. Bobby learns his lesson when he breaks the rules himself to save a classmate's cat from an abandoned house. In the subplot other family members restore an old sailboat.

Note: Barry Williams admitted to being stoned in the scene where he is pumping up the bike tire.[10]

15
87
"Greg Gets Grounded"
Jack Arnold

Elroy Schwartz

19 January 1973
090

Mike prohibits Greg from driving the family car for a week after Bobby describes his near-accident on the freeway. Greg then borrows a car from his friend George Thompson to buy tickets to a rock concert before they sell out. When Greg's parents call him on it, he states that he was complying with the letter of the punishment, by not driving "the family car". Greg is grounded from leaving home for ten days, except for school. Greg convinces his parents to abolish the punishment on the condition he does everything by "his exact words". They make Greg fulfill all his commitments to the letter, to teach him a lesson. In the subplot, Peter and Bobby train their pet frogs for a frog jumping contest.

Note: This is the second of two episodes to not have an epilogue, after the pilot episode "The Honeymoon".

16
88
"Amateur Nite"
Jack Arnold
Sam Locke & Milton Pascal
26 January 1973
093

Jan's misunderstanding of the price for the engraving of a silver platter they intend to give their parents as an anniversary gift leaves the kids scrambling for cash. To raise the funds they participate in television talent show as "The Silver Platters".

Guest stars: Steve Dunne as Pete Sterne, Robert Nadder as Alfred Baily, Harold Peary as Mr. Goodbody, Stephen Dunne's second appearance, having previously played Mark Millard on season two's "Alice's September Song"

Featured songs: "It's a Sunshine Day" and "Keep On", sung by the Brady Kids

17
89
"Bobby's Hero"
Leslie H. Martinson
Michael Morris
2 February 1973
088

When the family learns that Bobby's hero is Jesse James, Mike and Carol set out to teach him the truth about the outlaw. When books and censored movies on TV suggest to Bobby that James was not a villain, Mike tracks down a relative of one of James' victims to share his story with Bobby. That, plus a nightmare in which Jesse James kills the Bradys during a train robbery, finally gets through to Bobby.

Guest stars: Burt Mustin as Jethroe Collins, Gordon DeVol as Jesse James

Note: Originally, a skyjacker was planned to be Bobby's hero, but it was changed to Jesse James due to objections from the ABC network.

18
90
"The Subject Was Noses"
Jack Arnold
Larry Rhine & Al Schwartz
9 February 1973
091

Marcia is asked out by school hunk Doug Simpson ([Nicholas Hammond]) so breaks her date with Charley (Stuart Getz), the nice but unspectacular son of a wallpaper salesman, using the excuse "something suddenly came up". When Peter's wildly thrown football hits Marcia's nose causing it to swell and bruise ("Oh, my nose!"), Doug breaks their date with the excuse "something suddenly came up". When Marcia's nose quickly heals, Doug asks her out again. Marcia rejects him, admits to Charley what she did, and goes on the date with him. Marcia reveals that during the date Doug showed up and, after some teasing, fights with Charley, resulting in a swollen nose for Doug. Mike and Carol redecorate and can't decide on a wallpaper pattern for their bedroom in the subplot.

Guest stars: Lisa Eilbacher as Vicki

19
91
"How to Succeed in Business?"
Robert Reed

Gene Thompson

23 February 1973
092
Peter gets his first job as a bicycle mechanic. His painfully slow process repairing a bicycle irritates his boss,

Mr. Martinelli

(Jay Novello). Martinelli fires him for his plodding pace; he explains that Peter is "very nice" but just not "mechanically inclined". Peter keeps the truth from his family and takes refuge in the park until Carol and Mike visit the shop to purchase bicycles. They console Peter; Mike explains that he has lost jobs.
20
92
"The Great Earring Caper"
Leslie H. Martinson
Larry Rhine & Al Schwartz
2 March 1973
089
Cindy takes a pair of earrings Carol loaned to Marcia, and loses them. Cindy enlists budding detective Peter to help find the jewelry before Marcia or Carol find out. The pressure is on when Carol wants to wear them to a costume party (the planning of which is the subplot) where she a Mike plan to dress as Antony and Cleopatra. When the truth comes out the family reconstructs the events before Cindy lost the earrings, and find them in the washing machine – damaged.
21
93
"You're Never Too Old"
Bruce Bilson
Ben Gershman & Bill Freedman
9 March 1973
094
The kids try to set up their maternal great-grandmother, Grandma Connie Hutchins (Florence Henderson), and paternal great-grandfather, Grandpa Hank Brady (Robert Reed), after the two come for a visit. While Grandma is a real "swinger", Grandpa is a real "stick in the mud". After some problems, Grandma Hutchins finally wins over Grandpa Brady, and the two elope in Las Vegas.
22
94
"You Can't Win Them All"

Jack Donohue

Lois Hire

16 March 1973
083
Bobby and Cindy vie for a spot on a kids' television quiz show Question the Kids with host Monty Marshall (Edward Knight, Christopher Knight's father). Cindy earns her spot, and gains a huge ego as a result, but blanks when the cameras start rolling. In the subplot, Mike and Carol plan a dinner party which was originally going to be a barbecue, then Mexican food, then a smorgasbord, changing dates several times, without resolving a date for the party.
23
95
"A Room at the Top"
Lloyd J. Schwartz
William Raynor & Myles Wilder
23 March 1973
095

Greg and Marcia each want to convert the newly cleared attic into their own room. Greg is ultimately given the room as the oldest of the children, but relinquishes it to Marcia after hearing her tearful pleas for privacy from her sisters. An annoyed Bobby and Peter— wanting to keep their room to themselves—conspire to frustrate Marcia enough to have her relinquish the room. Marcia initially accuses Greg of the shenanigans, but they soon realize what is happening. Marcia reasons she will have her opportunity to take the room when Greg leaves for college so gives him the room.

Guest star: Chris Beaumont as Hank Carter

Note: In "Our Son, the Man" in season two, Mike tells Carol that the attic would be suitable for Greg if only he were two and a half feet tall.