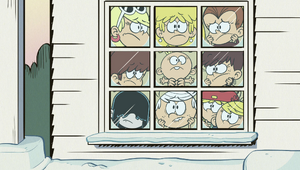 The Loud House is a Nickelodeon cartoon about a boy named Lincoln Loud, who is the middle child in a family with ten sisters.
References to The Brady Bunch
In the episode "Butterfly Effect", Lola is hit in the face by a football, breaking her nose. This is a reference to the Brady Bunch episode, "The Subject Was Noses".
In the episode "Snow Bored", the Loud kids look through a three-by-three panel window in a way that alludes to the Brady Bunch's iconic title grid.
In the episode "Future Tense", a large blended family moves in. Barry Williams and Maureen McCormick, the actors who played Greg and Marcia Brady, voice the Yates parents Bumper Sr. and Jancey.