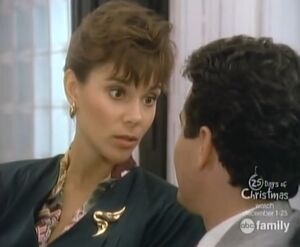 Valerie Baxton is a character in A Very Brady Christmas and The Bradys. She was played by Carol Huston in the film, and by Mary Cadorette in The Bradys.
About Valerie
In A Very Brady Christmas, Valerie tries to bring Peter, who is the minority partner of the law firm she is part of with her, to resign to the fact that she earns a bigger salary than he. When they agree to visit Peter's family for Christmas, he is finally able to resign to that fact, in getting over his hangups about a woman earning more income than a man in a relationship, as the two happily spend the holidays with the rest of the Brady clan.[1]
The relationship between Valerie and Peter was going smoothly. Peter was so excited his brother Bobby would be competing the Nashville 500 and suggested Valerie accompany him to go watch Bobby over there. But unfortunately, Valerie refuses to go citing her law firm is more important than the race. When Peter found out that Bobby was injured while involved in a race accident, Peter begged Valerie once more to accompany him to Nashville to see Bobby in hospital, but Valerie still refuses yet again. Disgusted, Peter not only quits his job at Valerie's firm, but also decides to break up their engagement with her, which upsets her even though she felt some sympathy for Peter.[2]
References
Community content is available under
CC-BY-SA
unless otherwise noted.