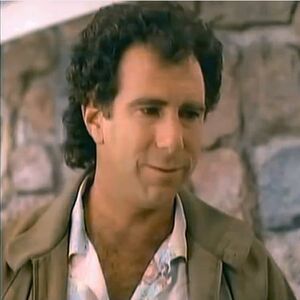 Wallace "Wally" Logan is a character in The Brady Brides, A Very Brady Christmas, and The Bradys. He was played by Jerry Houser.
About Wally
Wally is Marcia's slovenly husband. When steadily working, he is a fun-loving salesman for a large toy company. He clashes with Jan's uptight husband Phillip Covington, a college science professor.[1] After being fired from his job at the toy company, he manages to latch on with a rival toy company owned by Leonard Prescott, a neighbor of the Bradys and a friend of Mike and Carol.[2]
He and Marcia have new troubles when Marcia battles alcoholism, while Wally, who apparently couldn't keep the job with Mr. Prescott's company, lost yet another in a series of jobs, the latest being Mike's campaign manager. As their family are forced to temporarily move in with Mike and Carol, they eventually decide to open their own catering business to support their family, which becomes a big success![3]
Wally has two children, Jessica Logan and Michael 'Mickey' Logan. It is unknown whether Mickey was named after his grandfather, Mike.
References
Community content is available under
CC-BY-SA
unless otherwise noted.